We continue to strengthen our team! Dovilė Metrikaitė – Chemistry and Biocidal Products Expert – join our ranks
Summer has started on a very positive note for our team! Today we have a new member of the family, Dovilė Metrikaitė, who will be working in the growing Chemicals and Biocidal Products area. We are happy to have a long-standing and versatile expert join the Intra Vires team.
Dovilė briefly about herself:
During my studies in chemical engineering, I was interested in the norms of EU regulations applicable to chemicals and mixtures. It was curious to compare the requirements of Lithuania and other EU countries and later to discuss these results in scientific works. Over 12 years, I have accumulated considerable practical experience in regulation, preparation of safety data sheets, labelling and identification of chemical substances and mixtures, registration of biocidal products in Lithuania, Latvia and Estonia. I look forward to new projects and challenges!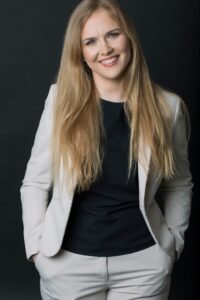 Welcome to the team, Dovile!